Kia Ora, Aloha, Bula
Worn by Warriors. Experience the power of the South Pacific with our collection of handcrafted wearable art.
From pendants to rings and earrings, each piece is designed to honor the warrior spirit of Aotearoa and Polynesian cultures. These adornments not only look great, but also carry a rich history that will imbue you with a sense of fierce pride. Elevate your style with traditional and contemporary designs, by NZ born artist and exclusively for Tuwharetoa Bone.

© All designs and content on this site are protected by copyright.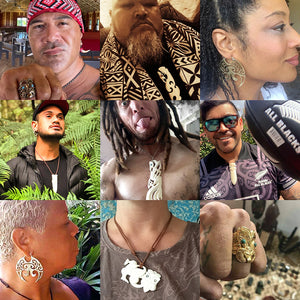 Thank You!
Over the course of the last few years, I've been lucky enough to receive many kind reviews and heartfelt messages from many satisfied customers all around the world.
Thanks to each one of you for your support, encouraging words and helpful feedback - this has really meant a lot!
Kia Kaha.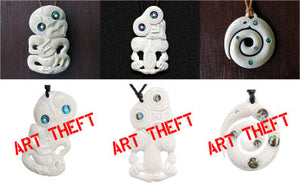 Beware of Art Plagiarism
It was brought to my attention recently by a valued customer that there are a few online shops selling copies of my designs without my permission. Please beware of cheap imitations shop wisely. plagiarism is stealing.  
5 Star Reviews
"Awesome service, beautiful Maori Hei Tiki!
Tuwharetoabone I give you 5 stars!"
Andrew Cooper on Mar 6, 2019
"The best New Zealand
Maori Bone carving I've seen, Cheers!"
Richard Henare on Mar 1, 2019
"Lovely Hei Tiki, very detailed maori necklace.
Such friendly people to deal with
and very quick posting.
Good communication and hope
to have further dealings.
Thanks again."
Peter on Feb 27, 2019
"Great New Zealand Maori bone carving design,
delivered in good time. Mauri ora!" 
Richard Kahotea on Feb 22, 2019
Journal
---
The Maori people of New Zealand have a rich tradition of storytelling, and among the most beloved of their myths and legends is the story of the god Maui. Maui...
In the culture of the Māori of New Zealand, a Tohunga is an expert practitioner of any skill or art, either religious or otherwise. Tohunga include expert priests, healers, navigators,...
The Takarangi is an intersecting double spiral pattern that signifies humanity's celestial origin born at the beginning of the Universe. 
PLEASE NOTE:
From October 2022 - Early 2023, I will be in Ubud, finishing my intermediate level silversmith course. Your parcel will be sent from here for the duration of that time.
Free (Regular) post can take over 2 weeks to arrive.
An Express Post option is available on the checkout page.
Thanks for your patience.
Cheers, T
---